Peanut Butter Blossoms.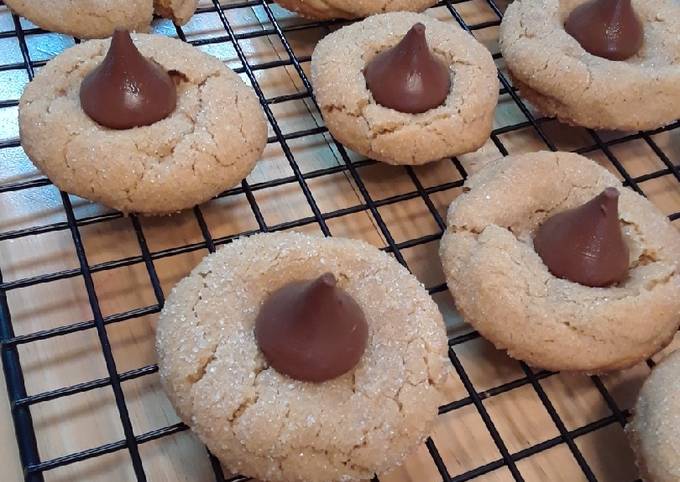 You can cook Peanut Butter Blossoms using 12 ingredients and 4 steps. Here is how you cook it.
Ingredients of Peanut Butter Blossoms
You need 10 tbsp. of unsalted butter, softened to room temperature.
Prepare 2/3 cup of light brown sugar.
It's 1/4 cup of granulated sugar.
Prepare 1/2 cup of creamy peanut butter.
Prepare 1 of large egg, at room temperature.
It's 1/2 tsp. of vanilla extract.
Prepare 1 1/2 cup of all purpose flour.
You need 1 tbsp. of cornstarch.
It's 3/4 tsp. of baking soda.
You need 3/4 tsp. of salt.
It's 1/2 cup of additional granulated sugar, for rolling.
You need of milk chocolate kisses, for topping.
Peanut Butter Blossoms step by step
In a large bowl, using either a hand mixer or a stand mixer fitted with the paddle attachment, cream together the butter and both of the sugars until well combined. Then add in the peanut butter. Once that's combined, add the egg and vanilla extract. Scrape down the sides of the bowl as needed..
In a separate, large bowl, whisk together the flour, cornstarch, baking soda and salt. Gradually add the dry ingredients to the wet, scraping down the sides of the bowl as needed until the ingredients are combined. Then cover the dough with plastic wrap and place it in the fridge to chill for at least 30 minutes..
Preheat the oven to 375 F. Line a couple large baking trays with either parchment paper or silicone baking mats and set them aside. Place the remaining 1/2 cup of sugar in a small bowl. Remove the dough from the fridge and roll into balls, about 2 tsp. of dough per ball. Roll each ball in the sugar and place them on the baking trays, about 2" apart..
Bake for 8-10 minutes, until they are starting to brown lightly around the edges. They should still look puffy and underdone in the center. Within a minute or so of removing them from the oven, place a kiss gently, but firmly into the center of each cookie. Let them cool for about 5 minutes on the cookie tray, then transfer them to a wire rack to cool completely..