Pumpkin Spice Iced Coffee. Pumpkin sp(iced) coffee is a fall fave. Make a big batch of coffee in the morn' and you can utilize any leftovers for your midday pumpkin brew. It's a pick me up and a 'tis the season!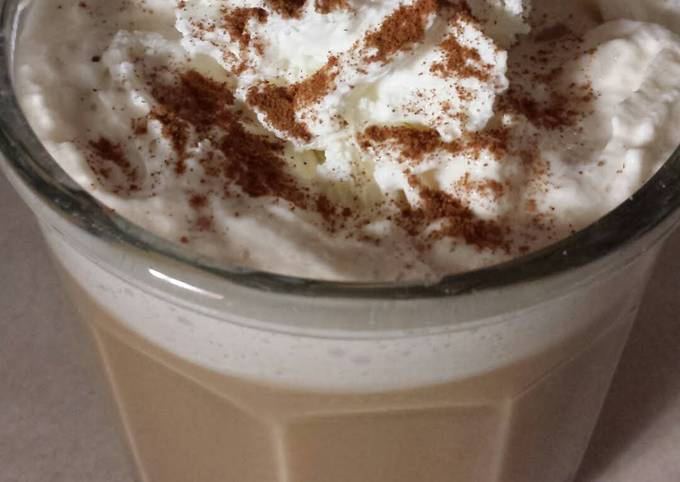 You can use our Pumpkin Pie Spice recipe for this iced coffee. Or you can use the separate spices! Iced coffee is pretty much an obsession of mine. You can have Pumpkin Spice Iced Coffee using 4 ingredients and 4 steps. Here is how you cook that.
Ingredients of Pumpkin Spice Iced Coffee
It's 1 of Baileys creamer. .Pumpkin spice.
Prepare 1 of reddi whip.
It's 1 of iced coffee recipe by:it's in the mix.
It's of Pumpkin pie spice.
When March rolls around, it's not spring that's around the corner. It's Iced Coffee Season, and I'm a This year, I decided to ease myself into the transition to hot coffee and lattes by making Pumpkin Spice Iced Coffee. All Reviews for Pumpkin Spice Iced Coffee. Making this dairy-free version of a Thai iced latte is easy… Make sure you have some of this non-dairy sweetened condensed milk on hand (or make a fresh batch — that's what I did here), some chilled coffee, ice cubes, a plant milk, and some pumpkin spice, and follow my lead… The Pumpkin Spice Latte is a coffee drink made with a mix of traditional autumn spice flavors (cinnamon, nutmeg, and clove), steamed milk, espresso, and often sugar, topped with whipped cream and pumpkin pie spice.
Pumpkin Spice Iced Coffee step by step
Pour iced coffee in a 10 oz glass.
Add creamer.
Add reddi whip on top.
Garnish with pumpkin pie spice. https://cookpad.com/us/recipes/342899-iced-coffee.
As soon as the season of pumpkin-spiced latte hits, everyone raves about their spiced lattes and coffee. Honestly, I do love their spiced lattes So here I am presenting you with a super convenient, easy to make recipe of ultimate pumpkin spice iced coffee. Pumpkin is my favorite fruit and I am. This pumpkin spice coffee is the perfect way to transition into the fall season! Even though the air is getting crispy, I can't stop my iced coffee addiction, so I thought why not add a touch of fall!