Peanut Butter Fingers.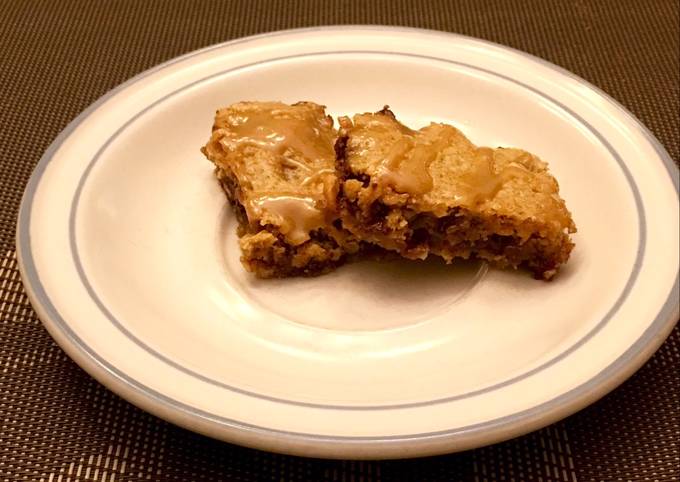 You can have Peanut Butter Fingers using 13 ingredients and 8 steps. Here is how you achieve that.
Ingredients of Peanut Butter Fingers
Prepare 1/2 C of butter.
You need 1/2 C of granulated sugar.
It's 1/2 C of brown sugar (firmly packed).
It's 1 of egg.
You need 1/3 C of peanut butter.
You need 1/2 tsp of baking soda.
It's 1/4 tsp of vanilla.
You need 1 C of flour.
It's 1 C of oatmeal (quick oats).
Prepare 6 oz of chocolate chips.
You need 1/4 C of peanut butter (creamy).
Prepare 3 T of milk.
Prepare 1/2 C of powdered sugar.
Peanut Butter Fingers instructions
Preheat oven to 350 F..
Cream together the butter and sugars..
Blend in the egg, 1/3 C peanut butter, baking soda, and vanilla..
Blend in the flour and oats..
Mix in the chocolate chips..
Spread into a 9×13 baking pan and bake for 25 minutes..
After removing the bars from the oven, combine the peanut butter, milk, and powdered sugar to form a glaze..
Drizzle the glaze across the bars and then cut into rectangles. (I cut my pretty small so I get 36 to a batch.).